After a short night in the ferry punctuated by the announcements of stops on the different islands, we disembark at 5am in Kos, Greek island, very close from Turkey. We will learn later that all these islands, close from Turkey and belonging to Greece, were previously Turks and were handed over to Greece during the Lausanne Accords, in 1934. When we tell people that we are from Lausanne, it will therefore be their first reference, but they are not resentful and take us as we are! Alice is tired and sleeps on a bench waiting for our next ferry that will take us to the turkish lands while Mehdi is going to stretch his legs around.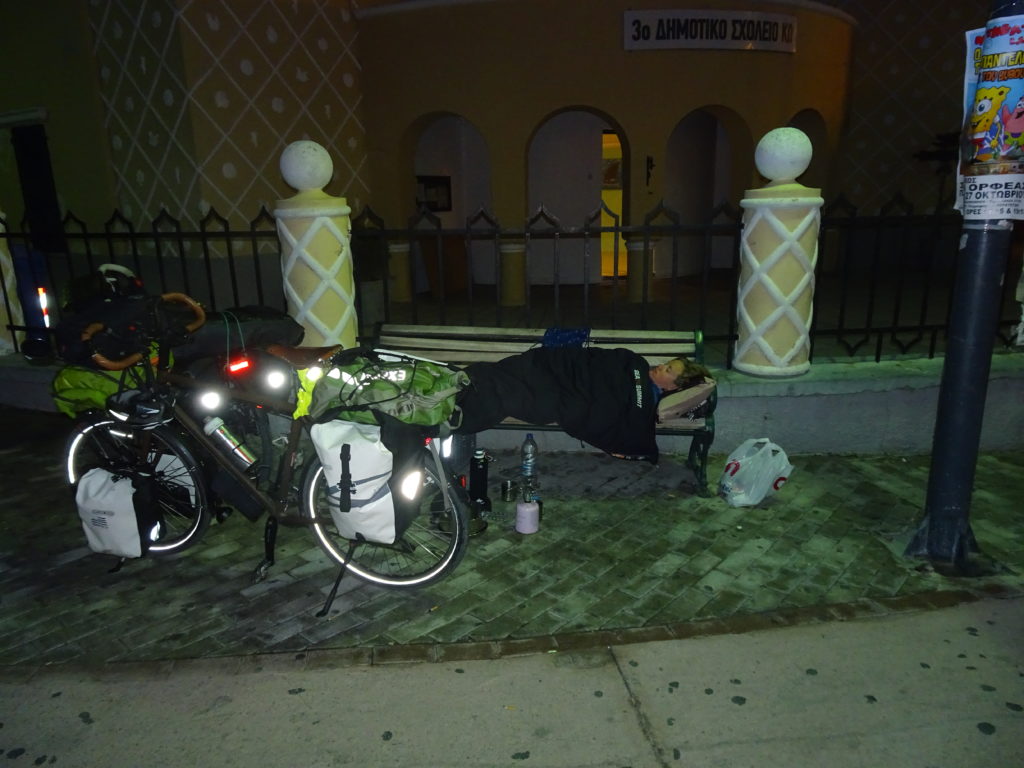 At 10am, we are entering a new country! This is always strange: new language, new social codes, new culture, new currency … we need to find new benchmarks and are very confused! Add this to a very short night, we are not very available for Turkey! So we cycle 5km and stop on a small beach to rest. There, we meet Mahmoud, the first Turkish guy to introduce us to the legendary Turkish hospitality! Mahmoud lives on this beach with his dog, his six puppies, his cat, and the fishes of the sea. He has no money but manages and deals well alone. As soon as we arrive, he makes us understand with his few words of English that we are welcome here and shows us the best location to put our tent. He invites us for tea, and will re-invite us several times until we leave. We are grateful for this meeting and leave the next day with more power.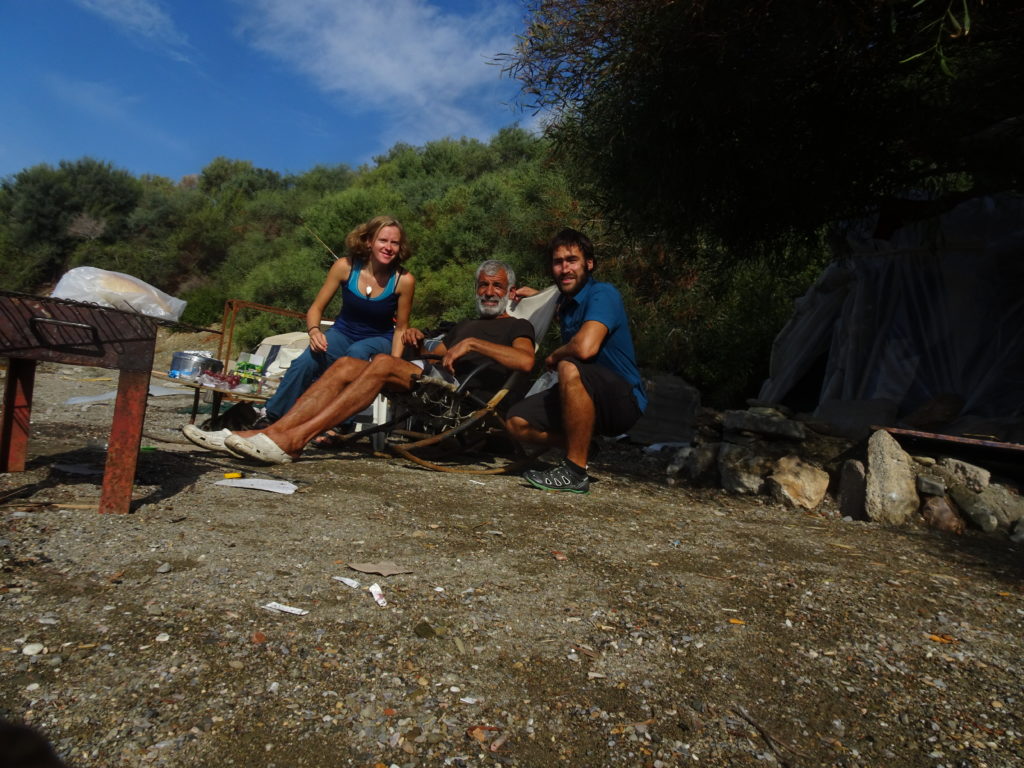 We cycle well and discover this country at our own pace: cafes full of men who play a game that looks like scrabble but with numbers, hot teas served in these beautiful curved glasses, women who pick olives with their traditionall clothes:  wide pants, a vest and a scarf on the head; cars dating from the 70s but so well preserved that they look like new … Sometimes we have the feeling that we are pedaling in another era. And suddenly, a small detail reminds us of modernity and we are back in the 21st century!
Between a violent storm that raises the waters of the sea and forces us to move in the middle of the night, a road made of pebbles and barely pedalable on 9km (2 hours to cycle them!), a flat tire (2nd one in 3 month of travel!) we are always on the lookout for the new adventure Turkey is preparing for us!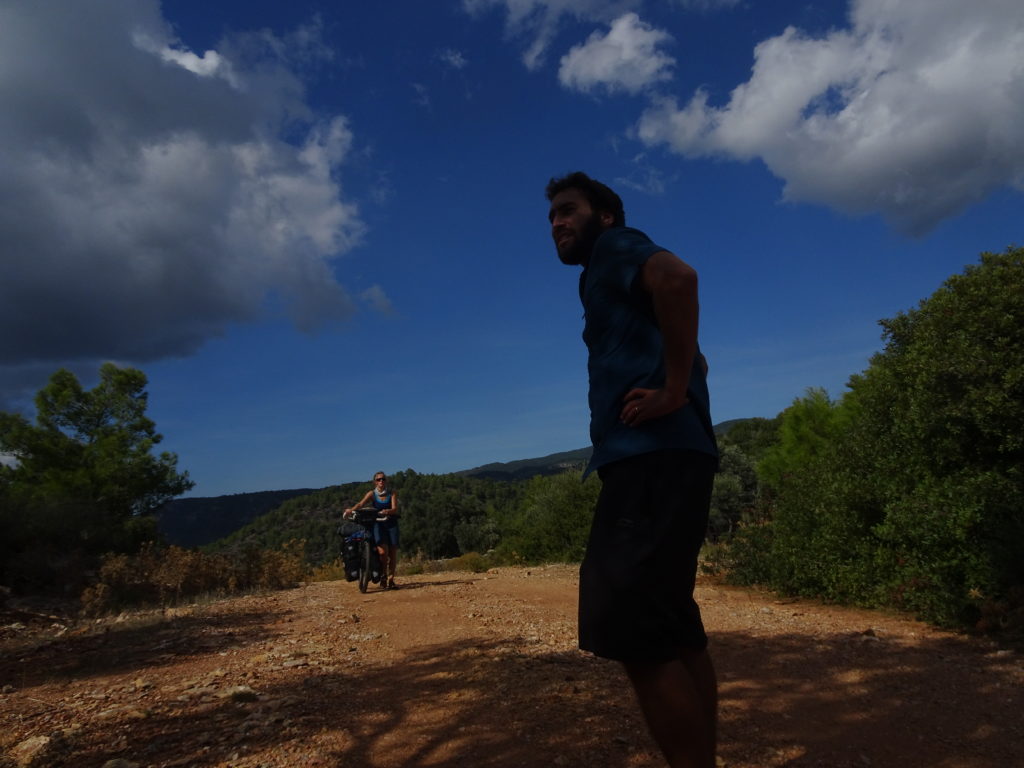 We have another nice meeting in the area of Oren. While we leave in the morning, a dog, sitting there quietly, gets up and follows us. At first we are a little scared because we heard a lot of stories about the scary dogs of Turkey, with their necklace made of nails. But we quickly realize that this dog looks very nice and seems happy to follow us. We stop at the post office, he waits wisely outside, we leave, he follows us. In the climbs, he gambols cheerfully by our side while we blow, and in descents, he follows us at a distance, his tongue hanging out. When one of us is late, he awaits with concern and looks back and forth. We quickly like very much this dog and we even slow down our bicycle during the descents so that he can follow us. After 17km, during a big descent that surely has exhausted him, he decides to turn back as he had decided to follow us, but we are happy to have shared these km with him!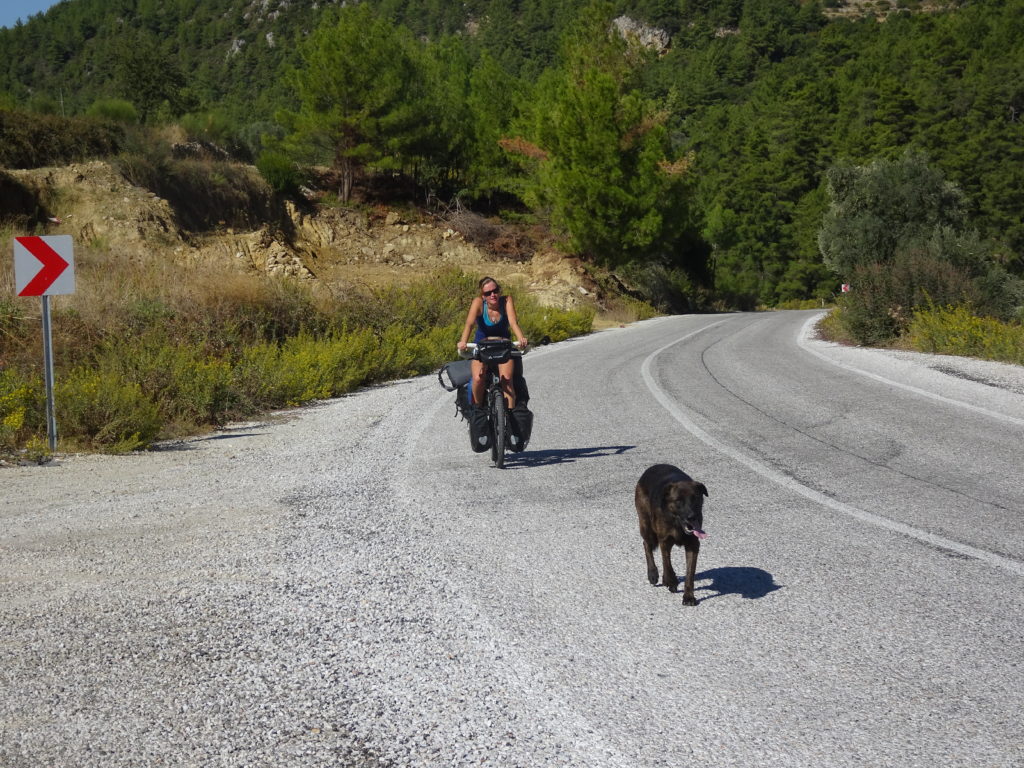 We continue south and have another incredible encounter. That day we had arrived in Göcek, a luxury tourist town. Many yachts were waiting tourists next to big hotels. We wondered where we could put the tent and especially how to shower. A man from nowhere asked what we were looking for. Mehdi frankly told him our needs. He advised us to pitch the tent on the beach, in front of the luxury hotels, and for the showers, he was a yacht captain, we could go to the harbor master's office and say that we are with him. This is how we met Feyzi thanks to whom we enjoyed a luxury shower. We feel that everywhere we are going we are welcomed with open arms.

We keep on cycling and we arrive at Fethiye, the first big city we cross in Turkey. It is windy and again, we wonder where we can put our tent in this big city. A man with a bicycle stops and talks with us for a while, he tells us that he envies us and that it is also his dream to travel by bike. He advises us to pitch the tent right here on the public lawn. We take a nap and when we decide to leave, the man on the bike is here again and offers us to ride with us to show us where can buy a new tube. Later, he offers us, if his wife agrees, to sleep at his house. We accept, we are very happy, this is our first spontaneous invitation. After a little tour in the city and a tea, we go home to meet his wife, his sister, his mother, and his 3 year old son. So are families in Turkey, life is shared with family members and it is not a problem. Sometimes, with our educators' s eyes, we think our northern countries have forgotten the simplicity of life and that we create many problems and suffering by putting our ancestors and our "social cases" in specialized houses. We are in any case welcomed as king and queen in this Turkish family and Alice is covered with gifts: hand-made knitted slippers, real veil to cover her hair and enter Iran in the standards … and the must, Senel (the sister of Caner, the man on the bicycle) reads our future in the marc of the Turkish coffee that she made for us!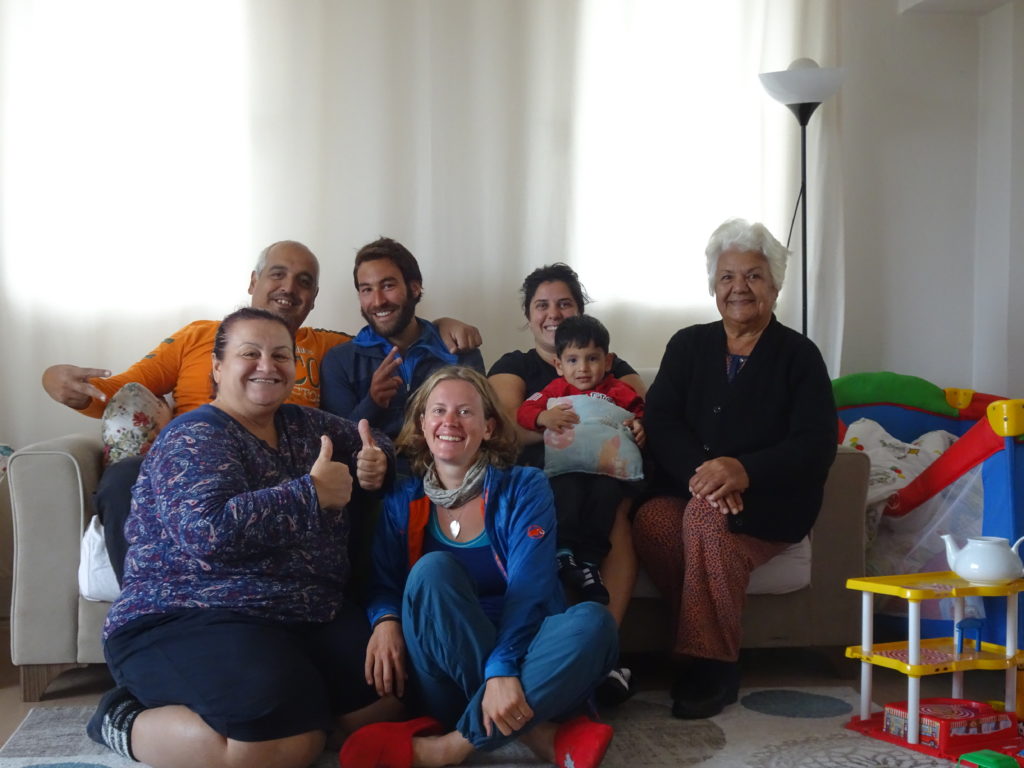 The next day, the snow fell on mountains, the winter is there, even in Turkey. To top it off, Caner drives us 30 km away to avoid us  to sleep in the mountains that night. We are invigorated by this wonderful meeting and pedals cheerfully towards Kas (pronounced Kash), where we are expected in an organic farm to do helpx: 4-5h of work in exchange of roof and food.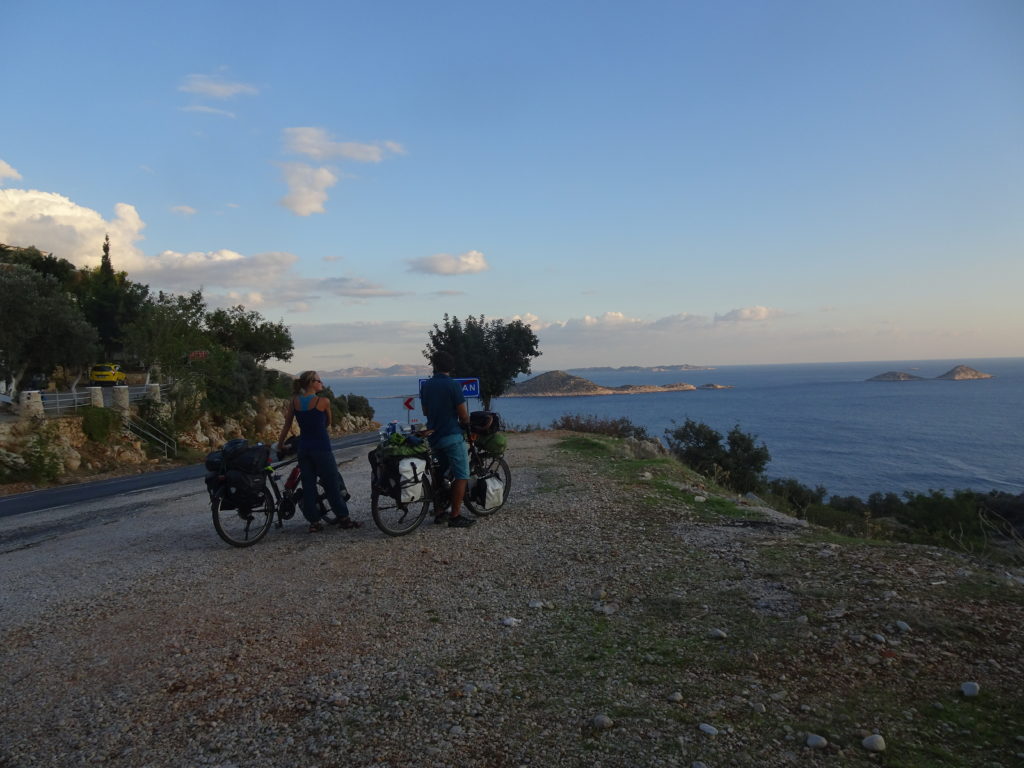 Between landscapes never seen before and beautiful encounters of humans and animals, Turkey has had for us in these first weeks the sweet and captivating taste of the baklavas we devoured in pastries.
PS: No video for this part, Alice broke the camera! (but you can check out our picture album!)