Because of the cold that catches up with us even in the South of Europe, and especially because we wanted to meet people for a longer time than just a few hours, we had the idea to land on a farm for two weeks in Turkey and give our help in exchange for  the roof and food. We found a place through the helpx site, but there are of course many other sites of this kind (wwoofing, workaway, and other sites specific  to each country that use the concept of "work and travel").
We were a little bit disappointed from the lack of answers to our emails sent to organic farms in South-West Turkey. We were then so happy to receive an answer from Ebru, in the Eco-Art Farm. Apparently, we could do yoga with them, maybe even art, and the photos showed the harvest of almonds, chia seeds, olives … in short, all what we could dream about to learn how to do!
We arrived at Cukurbag, on this farm, by a very cool late afternoon, but we were well warmed by a loooonnng climb that gave us a magnificent view of Kas.

When we arrived at the farm, we met two "helpers" (volunteers, like us) unloading large sandbags from a big truck. Ebru, the wife of the farmer, seemed surprised to welcome us but after 20 minutes she offered to show us our room. We arrived in a wet and dirty room, with a bed on which traces of slugs left us perplex. We cleaned everything and we installed well, despite the bad smell that we tried to hide by putting essential oil everywhere. A detail though, there were no heating and it was very cold. In the evening, we met with Aydin, the farmer, who explained us how life is very hard for them right now and that there is a lot to do. We said we will be happy to help them as we can. The next day, at 7:30, we had breakfast; we slept badly because the room was wet and cold and we felt that we were not in great shape but were motivated by this new experience. Meals were taken with the other two helpers, Anthony, an American guy, and Özgür, a Turkish guy. The melting pot of culture was ​​pretty funny.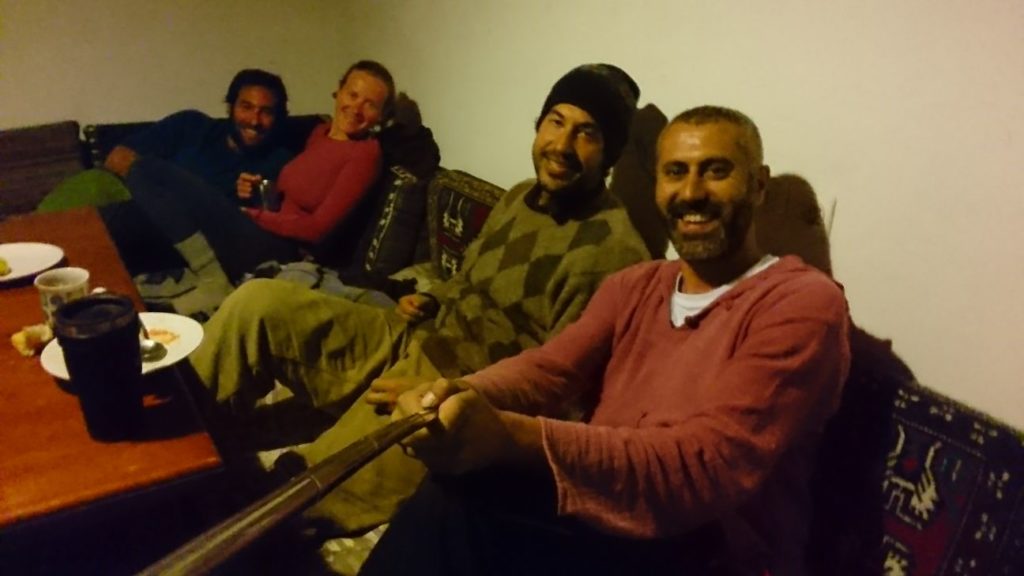 For about 6 hours, we will dig a hole in the scrubland to bring a pipe to the almond field that is lost in the mountains. We worked like hell and felt happy, at the end of the day, of the work we've done since we reached the field, which should have only been reached on the day after. That day we met two Turkish workers who do not spoke a word of English. We appreciated and admired their simplicity in the work, the relaxed way and at the same time the efficiency of how they did their task.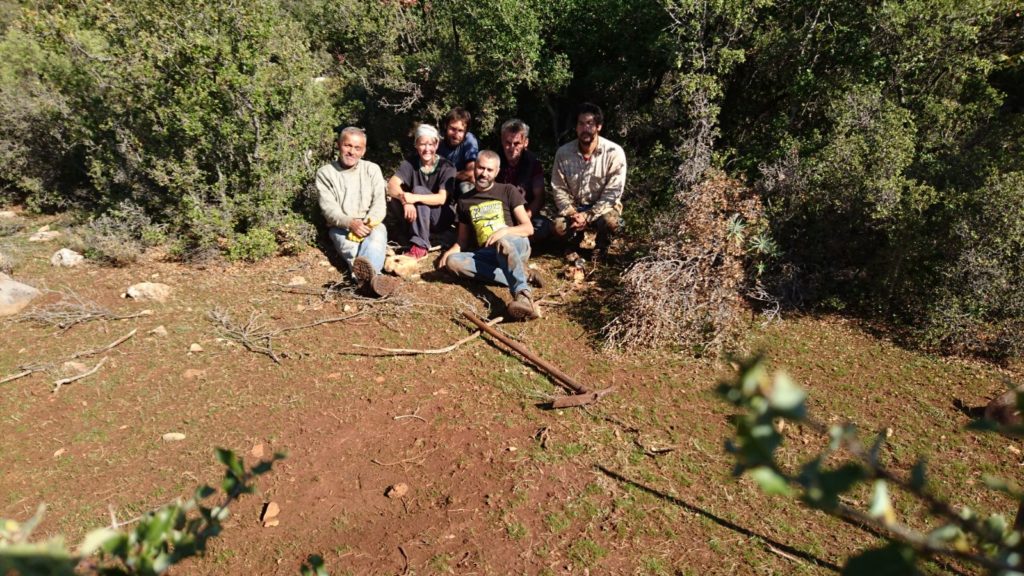 We walked back home but a tractor luckily gave us a hitchhike because the house was an 1h30 away on walk.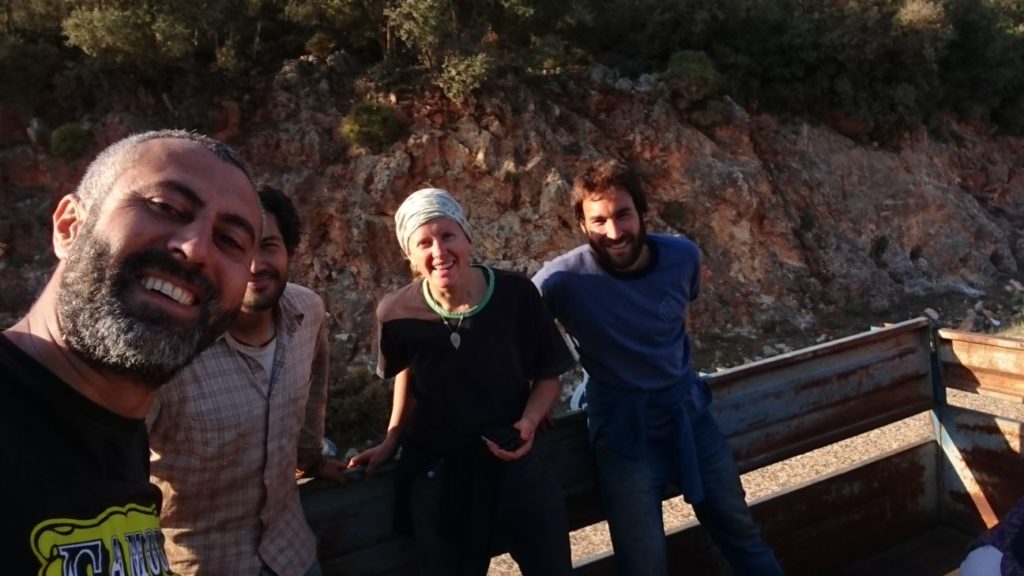 The next day, after another very cold night, we felt really tired. While we went to take the breakfast tray, Aydin asked us to clean the crumbs of the tray because it is not correct to give back a tray like that. Given the condition of the room we received and the cold that reigns, given that we were working more than the expected 5 hours and that when we had recall the time the day before, Aydin didn't appreciate it … we were starting to get a little less helpful. Mehdi explained that we were cold and needed heating. Aydin replied that there is only one stove for all the volunteers, he can not provide a heating in every room. We found that he could have. That day, although he told us the day before that we would surely pick up the olives, he finally decided to fix his roof and build an extension on the house. This was again a very tiring job because it takes 2 people on the roof to undo the tiles, another guy who receives them, and another who loads them in the wheelbarrow and arrange them further. It's Alice who did this last job: it's like doing squats, but with a load. And there are a lot of tiles on a roof, so a lot of squats. The aches that ensue from this day will remain painful for a week. After work, we found a solution for heating with a small stove that Aydin provided us. We went to fetch wood (since he did not supply it) and asked him for his chainsaw to cut it. This was not possible either, but we could use a small saw or a serpette. It was too much for Mehdi who started to get very annoyed. Finally, we managed to get warm in our room and were happy. The trouble is that was a little bit too late and we were starting to get sick. In three months of nomadic life we did not use our medicine, but in this farm we emptied tubes of granules and used all our muscles balms! After another hard day of building and carrying bricks, we took a day off.
It allowed us to rest, and to think a bit about what we want to do. In fact, we had planned to stay two weeks in this farm but we thought we could physically rejuvenate, which will not be the case, and have time to read, write, do nothing … which will not be possible neither … So we decided to leave at the end of the week. The last two days of work were less intense but the atmosphere got more bad and that was a pity. However, we found it interesting to understand how the people functionate, their communication strategies, their patterns in relations … We will leave this farm with a relatively good memory, because we met beautiful people; especially Mehmet (on the right in the photo, on the left Anthony), who have taught us turkish words with his  mountains's accent, and in whom we have a great admiration for his natural calm attitude and his expertise in the work he is doing.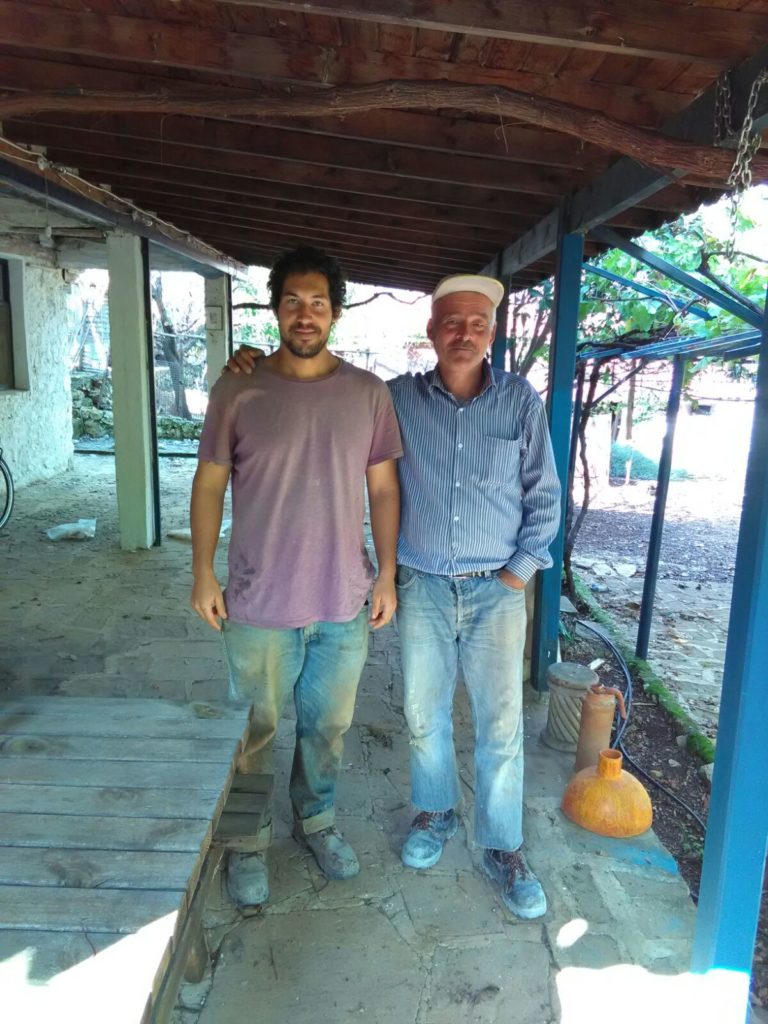 But where to go then? We make a random phone call to a hotel that is on helpx, in Antalya. "Hello, do you need helpers now?", "Yes, we need helpers!", "Ok, we'll be here tomorrow!", and voilà! So here we are, going to Antalya, by bus this time, because it is 250 km away. We arrived in the evening and met Ibrahim and Selma, a very loving couple who has 3 beautiful children and who runs a hotel in a touristic town.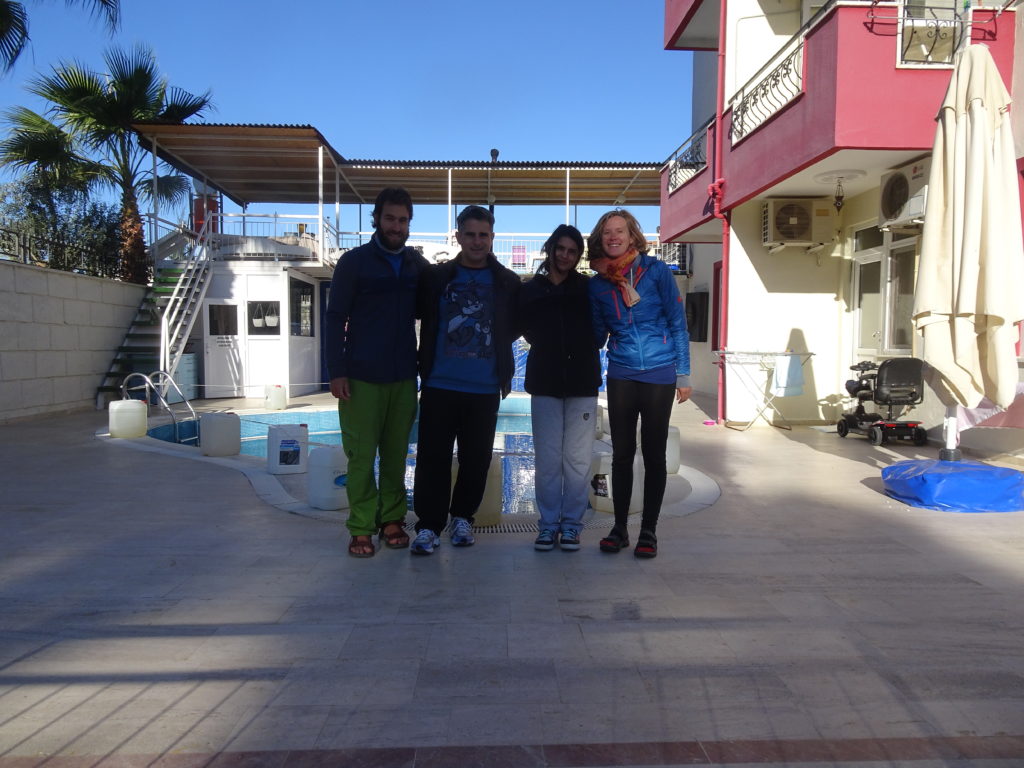 So we entered a new world, and especially a new rhythm. We worked only 4 hours a day, and the tasks were rather ironing, painting, cleaning, picking up children at school, giving them english lesson, taking them for a walk… in short, we immersed ourselves in their reality. It is always impressive for us to dive into the world and the vision of people, every meeting gives us a new definition of the reality of the world, of Turkey, of life; It is very enriching! So we spent a much quieter week and took this opportunity to rest from our previous experience and have a good time. We met another traveler, Robert, who came from Poland by hitchhiking.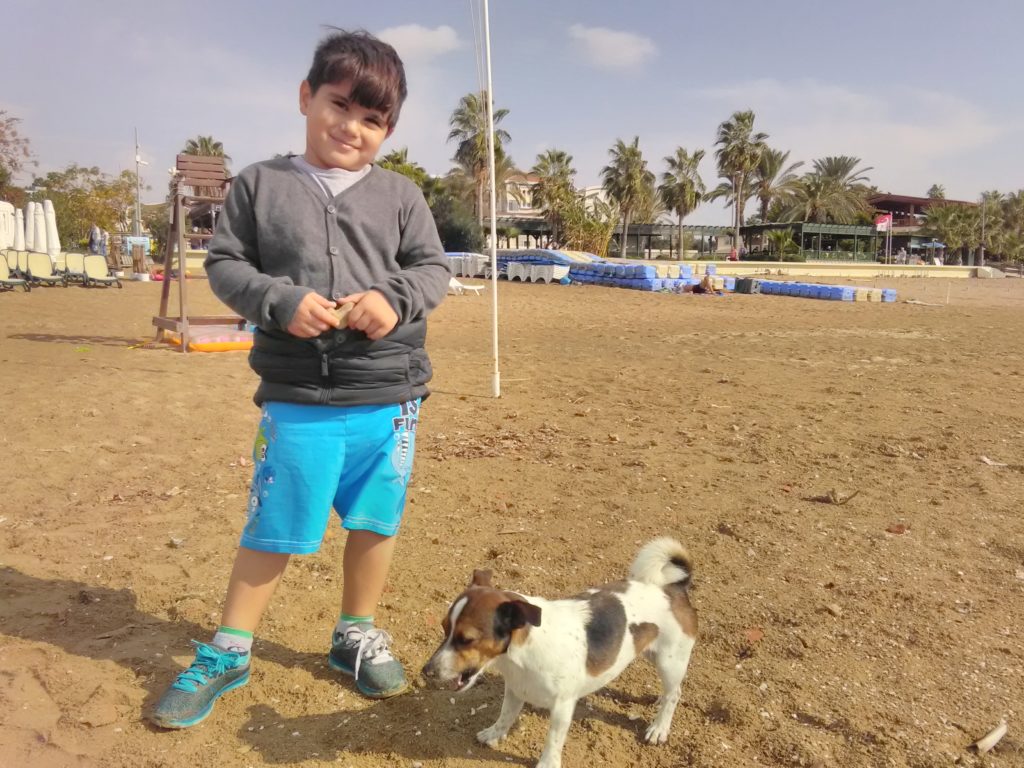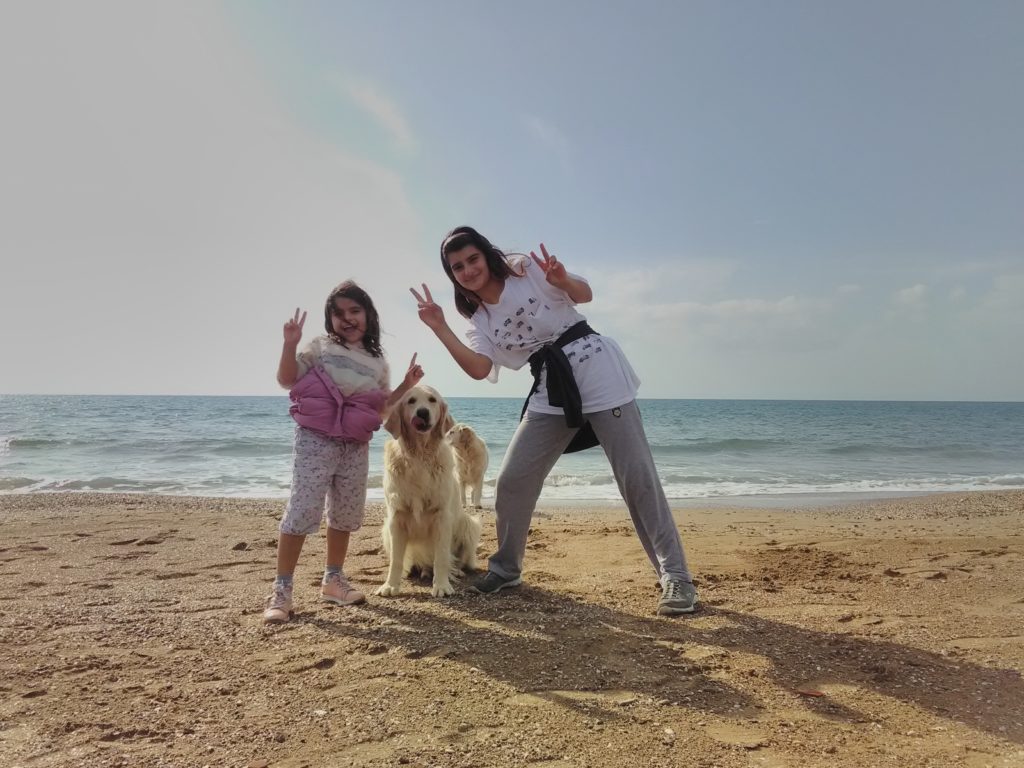 We realized that we are not used anymore to stay in one place for a long time, we even got a little bit bored. That's why we were happy to get back on our trip, on the direction of Eastern Turkey, Van!