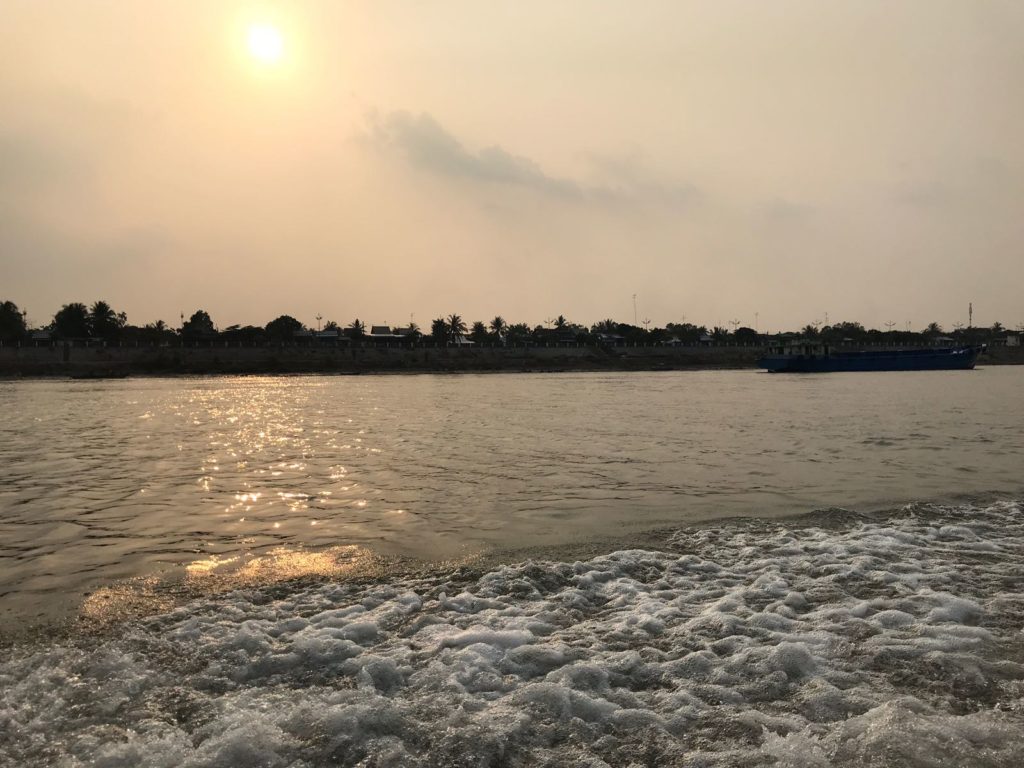 We leave Cambodia on a boat and pass the customs along the Mekong. We meet a Vietnamese woman married to a French man. She teaches us our first words and represents our first guide in this country. The most important word is of course Xe Dap (pronounced Siedap): bike. Arriving in the evening at Chau Doc, her hometown, she invites us to eat "street food" consisting of rice noodles, green leaves and vegetables (and duck for Mehdi). To our (good) surprise, it's way nicer, lighter, tasty than the street food we've experienced in Thailand and Cambodia, and of which we're getting really sick of.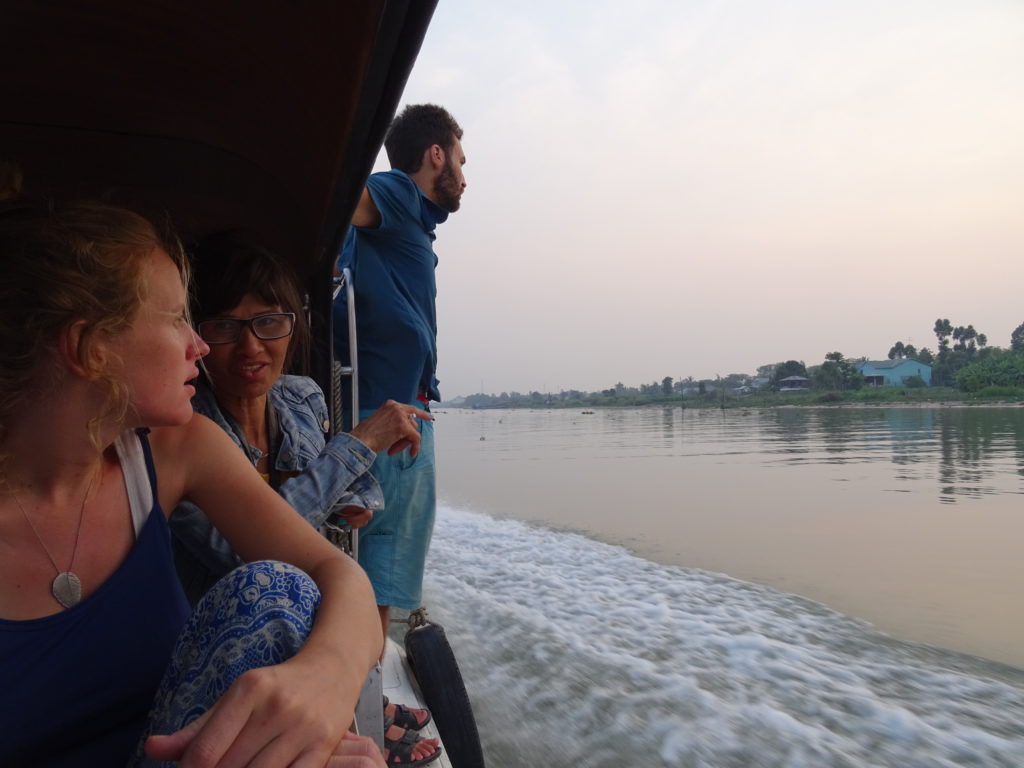 Happy with these new tastes and landscapes, we leave the next day by bus to My Tho, a small town in the Mekong estuary. There, we rent a bike for Catherine and go to discover the islands in the estuary. Our goal is to find the coconut candy factory. We end up arriving in a kind of tourist street where every little restaurant, house, is designed to make us buy something. We discover that prices of coconut oil are close to European prices, depending on where you buy it (the price can easily quadruple from one seller to another).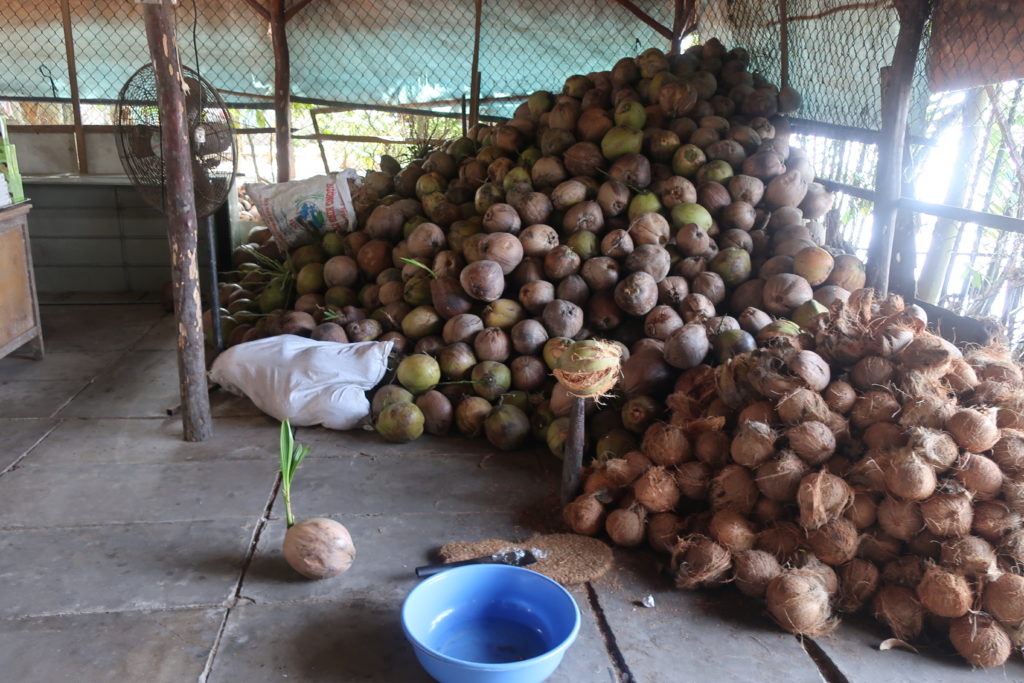 So we try to bargain and find out that they are not the same rules of bargaining as we were used to in the Middle East: the haggling there must be done in order to take care of the relation customer-seller, with humor, and the traders appreciate it. Here, it seemed to us at the beginning that the traders seemed so closed that they did not want to haggle, preferring to sell nothing rather than sell at a reasonable price. We have gradually adopted the same attitude as them, sometimes even intimidating, and to our surprise it has worked much better and prices have come down by half … After we understoood that, we avoided the markets and places where we have to negotiate because we find it much less pleasant to do it in this way than in connection and humor.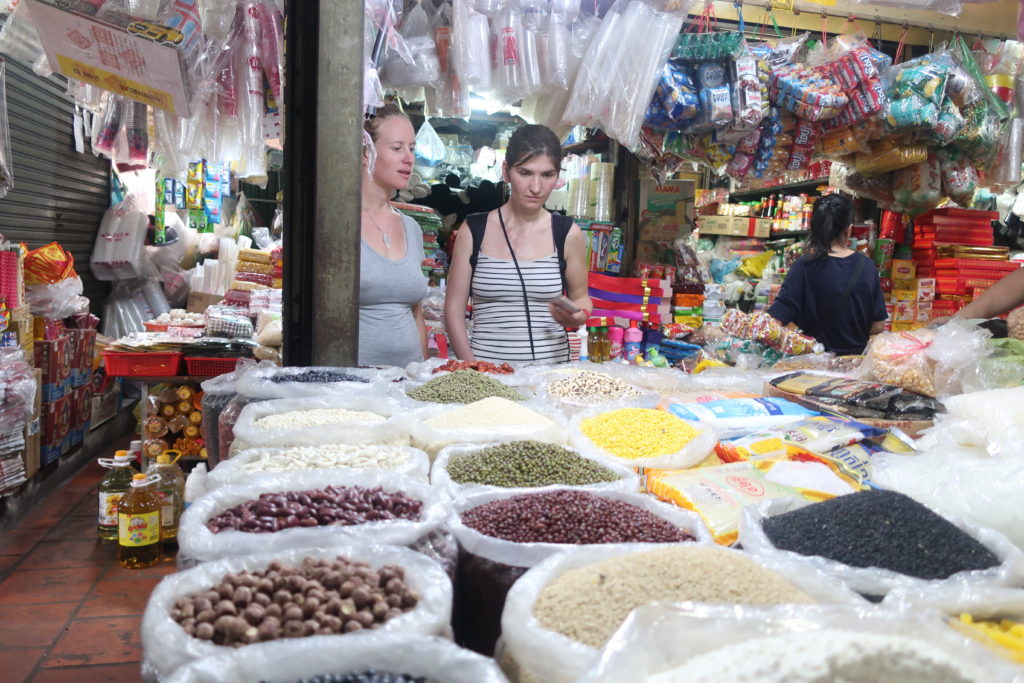 What will interest us the most during this tour will be the discovery of a Lidl bag factory: a room where half a dozen women sew and make bags. What surprises us with our "europeans traveling for 8 months eyes" is that if we had seen a picture of this before, we would have been shocked by the conditions: some women on the floor, fans hanging on the wall but  women working in a scorching heat, an open warehouse on the road … But now that we have seen the realities of life of people here in Southeast Asia, we understand that these are conditions quite normal for them: they live more on the ground than us, spend most of their time outside their house in the street and are not disturbed by the proximity and the heat as we do. Thus we realize that sometimes our judgment of "good conditions" of work is related to our reality of life, and does not necessarily correspond to the reality of those we would describe as "exploited".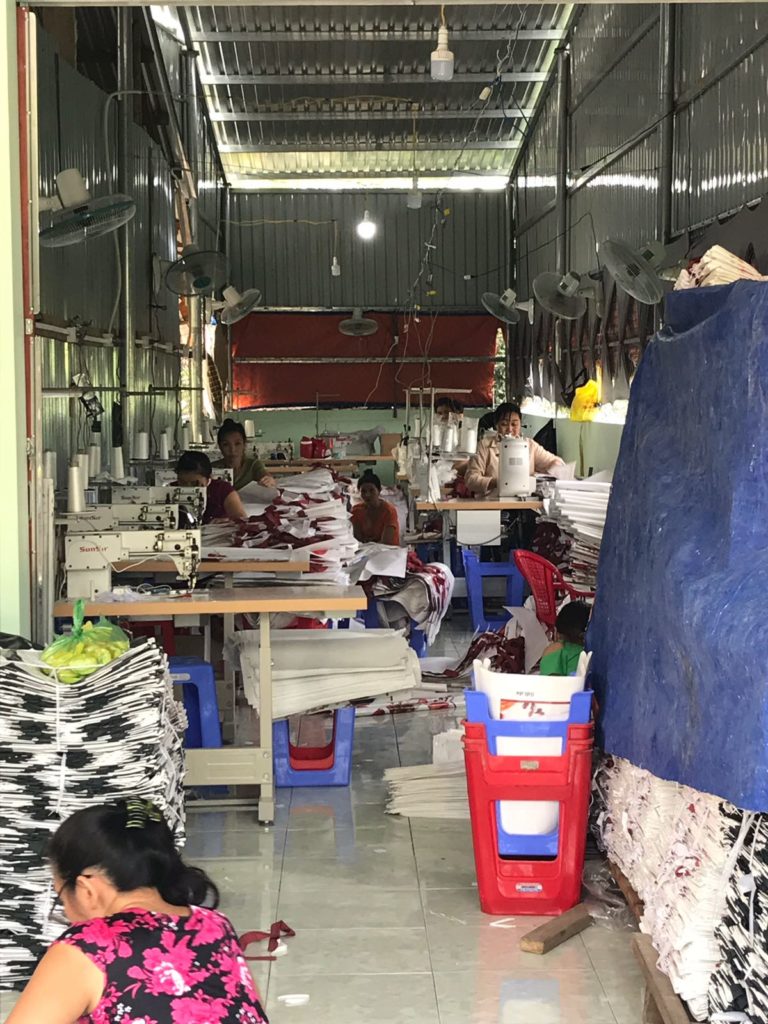 We then continue our route to Ho Chi Minh city, much more commonly known as Saigon. We arrive in a huge and very dense city and realize that the hotel we have booked is unfortunately in the heart of a tourist street infested with restaurants and tourist bars whose way to get noticed is to make the most possible light and noise. Difficult to sleep before 4am and we are happy to leave the city to go cycle a few days by the sea. Unfortunately, in our distress we will forget our passports at the hotel and will be forced to return to get them back.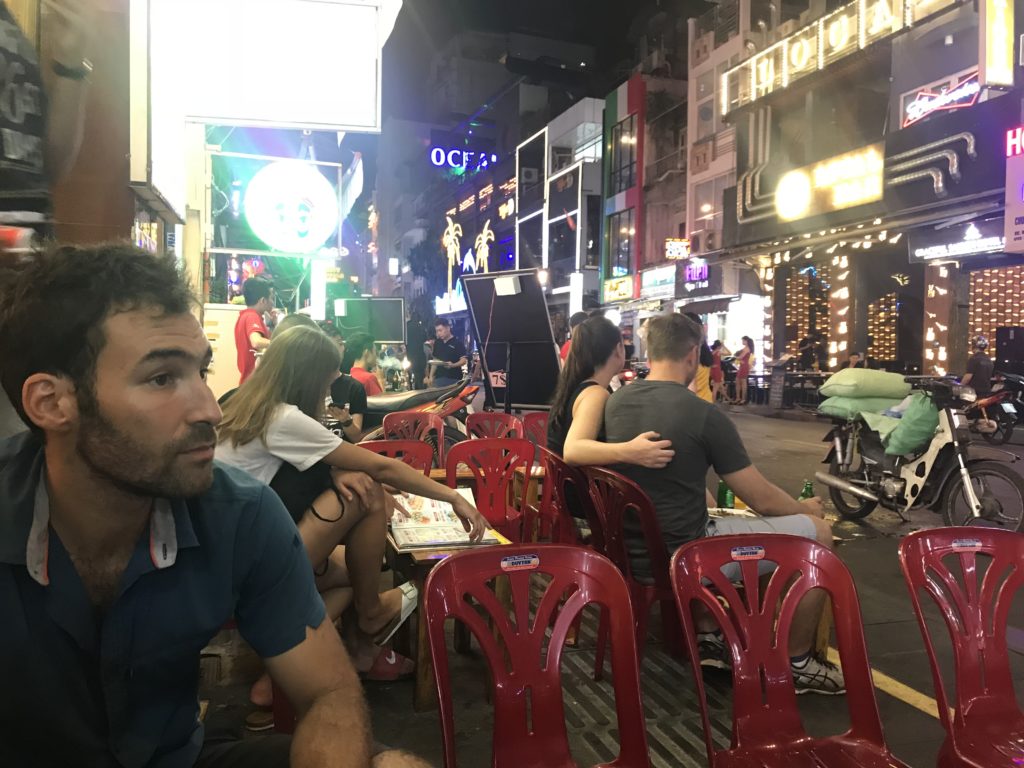 So it's pretty tired that we arrive at Phan Thiet, at the edge of the sea. Catherine finds for us two small rooms close to the beach and after a game of monopoly (became a traditional game since Catherine is there), a fish in foil by the sea and a first swim (the last one was in Thailand), here we are, ready to cycle!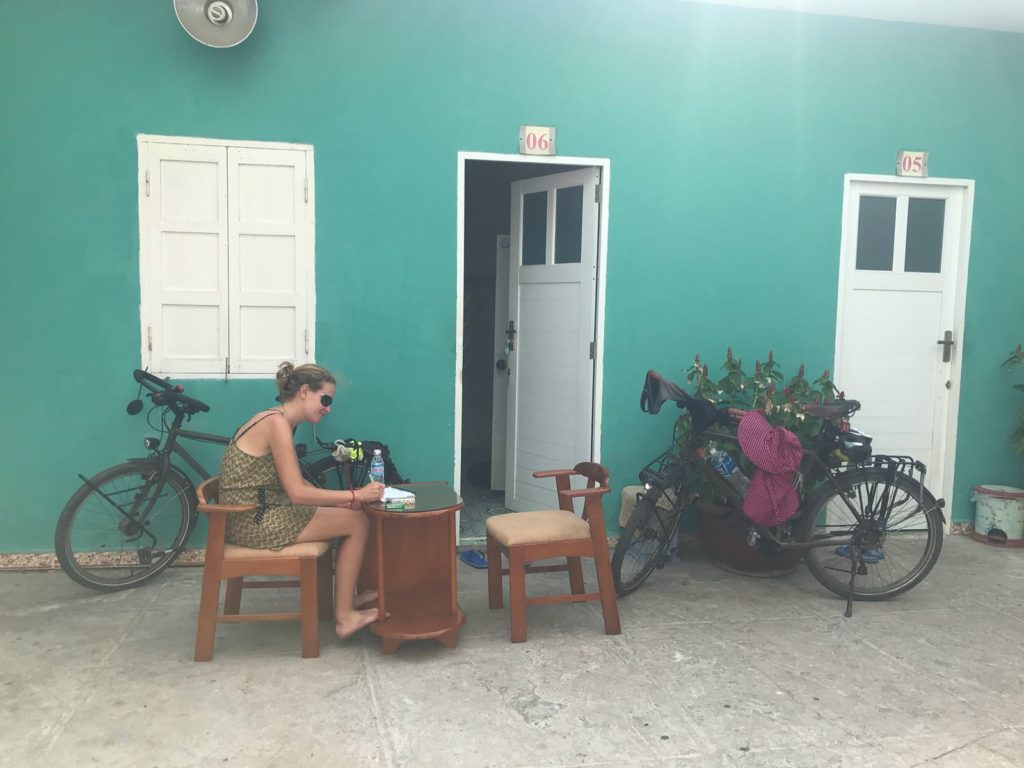 We make a nice loop of 5 days of cycling, along the sea, and discover magnificent typical views of Vietnam. Here, the fishermen have some kind of big basins, plastic or braided tight in natural fiber, and throw their nets in the sea aboard these basins. The other fishing boats, often painted in blue and with two eyes on the front not to get lost at sea, give to the whole seascape a picturesque and esthetic image. Apart from that, we are pleased to discover that Vietnamese love to take care of the gardens and trees of cities, so it is much more pleasant to walk in these scenery than in cities in other Southeast Asian countries.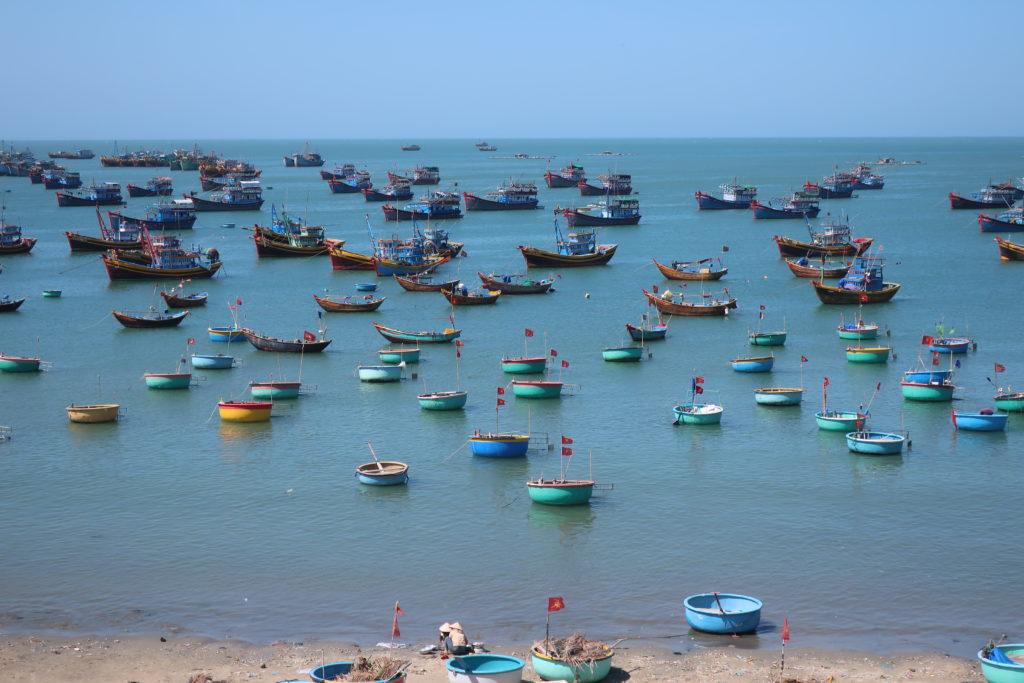 The sea is very rough every time we go to find it and we roll and turn in the waves! This is still nice because the heat is still intense, which pushes us to pedal only about 1:30 per day, in the morning, not to fall like a dried leaf on the side of the road!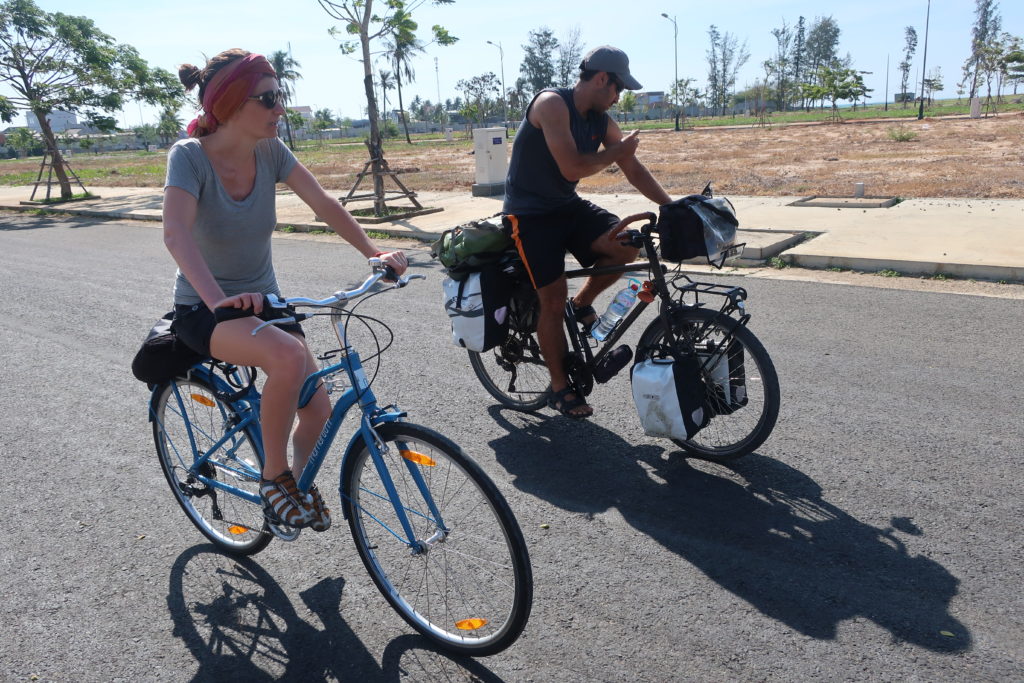 After these few days enjoying the sea, we must return to the big city because the journey of Catherine with us will already be finsished and she will fly to Switzerland. For our part, we decided to go to Hue, a city in central Vietnam, where we hope to find answers to the question that has been in our head for several months and that we have not shared here yet: is it possible and nice to live in Vietnam for about a year to have our baby who is growing up in Alice's belly since we arrived in Asia?
Discoveries, shocks, surprises …:

Finally we find bread in Vietnam!

Of course, these are simple baguette of poor quality but the Vietnamese love to make sandwiches with it and we find booths everywhere that deligth us.

We thought that Italy was the country of scooters … that's nay !!

It's Vietnam!

Here the bicycles have been replaced by two motorized wheels and they are waves, no, seas of scooters that pour into the streets of Vietnam every day!

The rules of driving are of course very different from ours (if there are rules, because you can drive a two wheels without a driving license) and despite the wearing of a very basic helmet (helmet that we no longer see on the heads since

Greece already), we discover over time that accidents are unfortunately very common.

Yet

Vietnam is being so long and so easy to serve by train, it takes about 2 days to reach Hanoi from Saigon, by the unique line that connects the South to the North (trains go on average at 50km/h).

We are surprised to find that the price of tickets is relatively high compared to the same quality or even higher quality in Thailand.

 

No, Vietnamese conical hats are not a legend!

The Vietnamese women wear them daily (especially the 3rd age it's true) to go shoping or to work. 
Watch our photos here! Unfortunately, it looks like our comptuer is really dead so we cannot make our movies… you'll have to wait until we buy another one to see them!