Here is an article that we wrote almost two months ago but it is only today that we take time to publish it!
This name of Shinkansen made us dream a little. We knew that Japan was famous for its trains and speed, but we did not know we were going to love them. You must imagine a train as fast as a TGV (the fastest french trains), but in which in addition to that you feel at home inside! Swivel seats to cope with companions, tilting and ergonomic for sleeping, large front shelves, legroom, toilets that are cleaner than all the toilets of the Europeen trains combined… in short, we could write lines and lines to praise the Shinkansen! It is therefore in two big hours that we join Emilie that day, who has just landed in Tokyo. Having traveled 6 months in Southeast Asia and experienced trains that average 50 km/h, we are so charmed by the Shinkansen, the fastest train in Japan!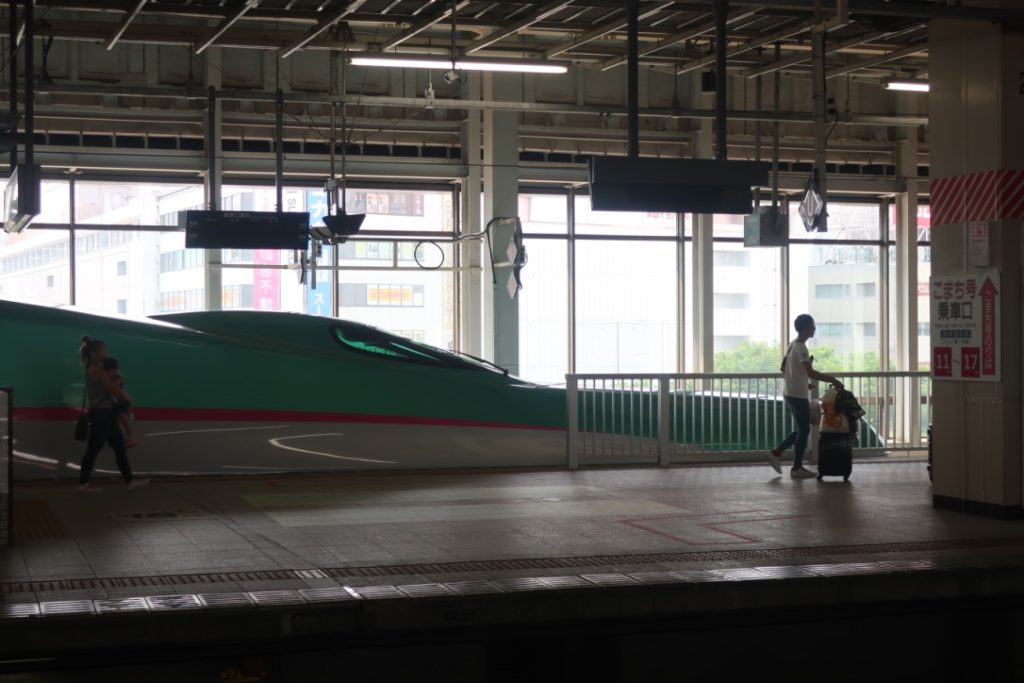 Almost a year after our departure, we have again the chance to have a friend who joins us and travel for a while with us! It will be the last before a moment for that matter. So we take the time to meet up and rest together because Emilie has made a long trip and the time difference with Switzerland is consistent.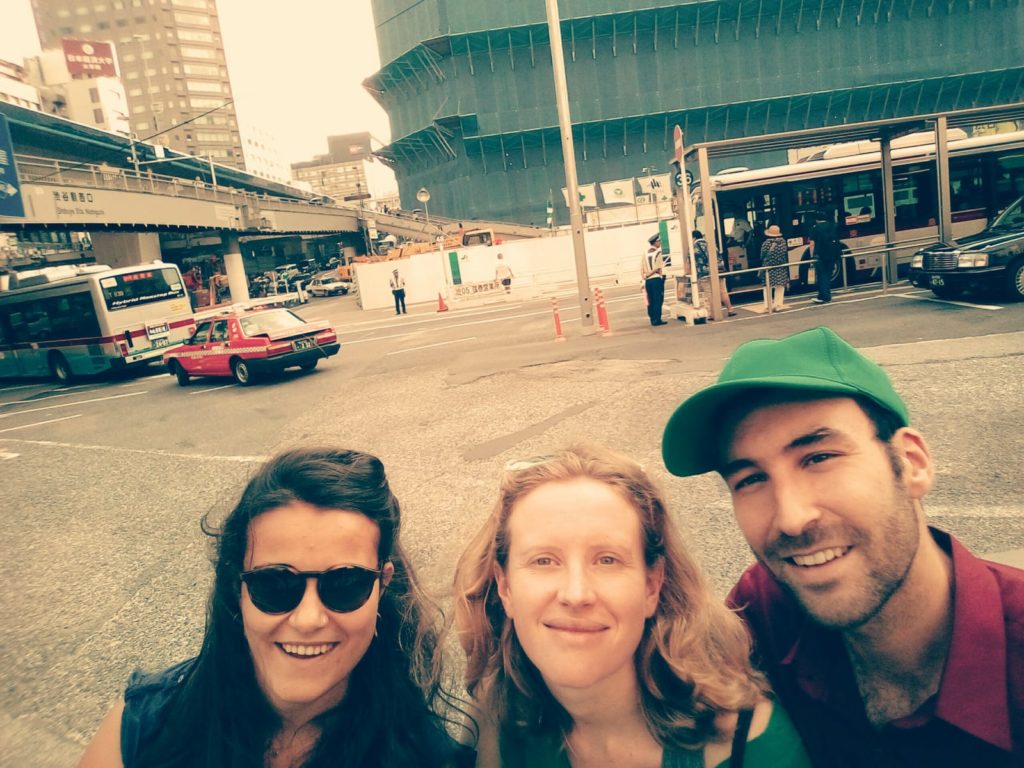 Mehdi offers us two activities for this huge city that does not inspire curiosity to Alice. We will visit the famous crossroads of Shibuya, this huge pedestrian crossing where the entire crossroads closes to traffic to let go of the sea of ​​pedestrians who accumulate every minute. This is indeed impressive. While strolling in the surroundings, we also discover the pachinkos, these sort of immense stores full of games of money, on the border between the pinball machine and the slot machine, where the noise and the smell of the cigarette fill every visitor. We are stunned when we leave, 30 seconds later. The cleavage between the so quiet streets, even in this immense city, seems to reinforce even more the incessant noises of the pachinkos.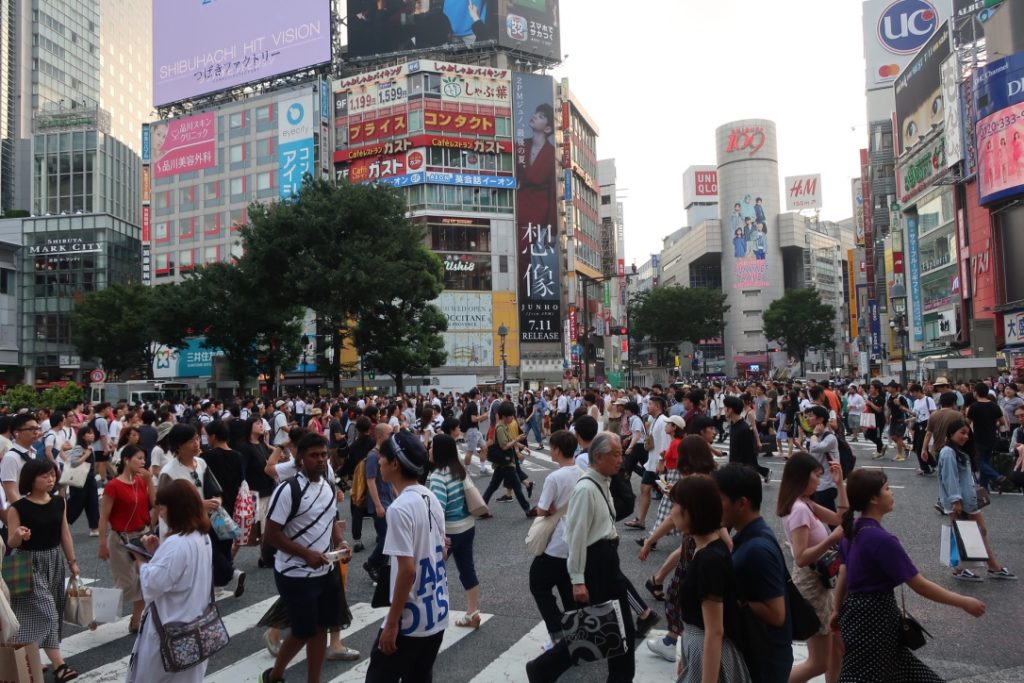 After this experience, we visit the museum of Hokusai, this artist who painted Mount Fuji so many times from different angles and with different medias. This plunges us into poetry and Japanese art, especially as we discover another exhibition of the artist Hirioshi, who has taken over the paintings of Hokusai by adapting them to his imaginary world in which a big cat seems to live a peaceful and happy life. We are fed by these two artists and we feel ready to discover Mount Fuji for real.
So we take the train the next day and are angry to learn that we can not reach our destination without paying a supplement which seems to us quite substantial. Indeed, we bought Japan Rail Pass before coming, these passes that all the tourists were eager to advise us and that allow us to travel all over Japan by train. It had been a considerable investment and we did not see why we should add more money. So we decide to hitchhike, and find a nice gentleman who drive us to our hotel and with whom we manage to exchange a little, despite an English almost nonexistent.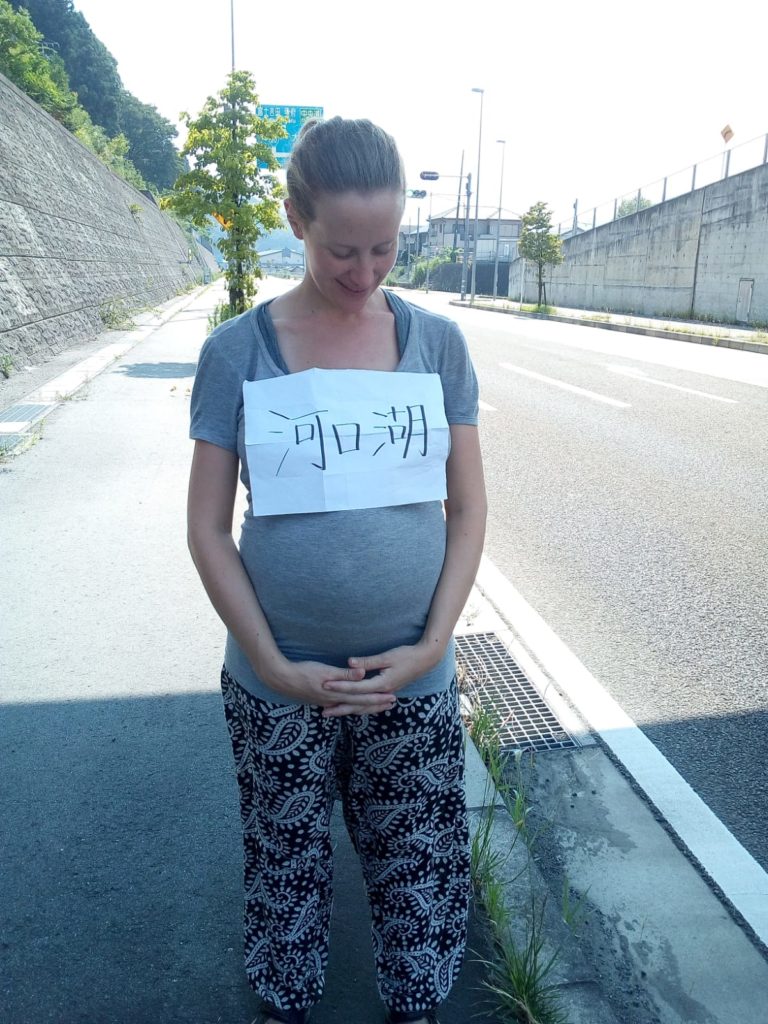 Here we are, in front of a beautiful lake, and in the distance stands, imposing, lonely, towering, Mount Fuji. What a view, what a volcano! It often happens to us, by observing the nature of a country, to feel closer to the culture of the people who live there, to understand in another way, through other channels, what has shaped the vision of the world of the population. This is what happens to us in Mount Fuji. We have the opportunity to observe it in the evening, at night and in the morning at sunrise, and discover an infinity of hues and different views as nature changes its colors around it. No wonder why the artist Hokusai was so passionate about him!
A long journey awaits us because we decide to visit Hokkaido, the most northern island of Japan. We are eager to discover nature in Japan, so the north is an ideal destination. Once again, we are frustrated with the trains because we do not understand the Japanese logic to transmit the information. In train stations, dozens of signs are competing but we are still struggling to find the information we really need. This is how we find ourselves on the platform, want to get on a train to the north, and realize that all places are reserved, without knowing where the information was given that we should have booked. We understand that we must rely totally on the Japanese and go each time ask the questions because we are not competent to understand their logic of operation. We reserve a train for the next day and spend a night in Sendai in the meantime, a city that does not inspire us much beauty.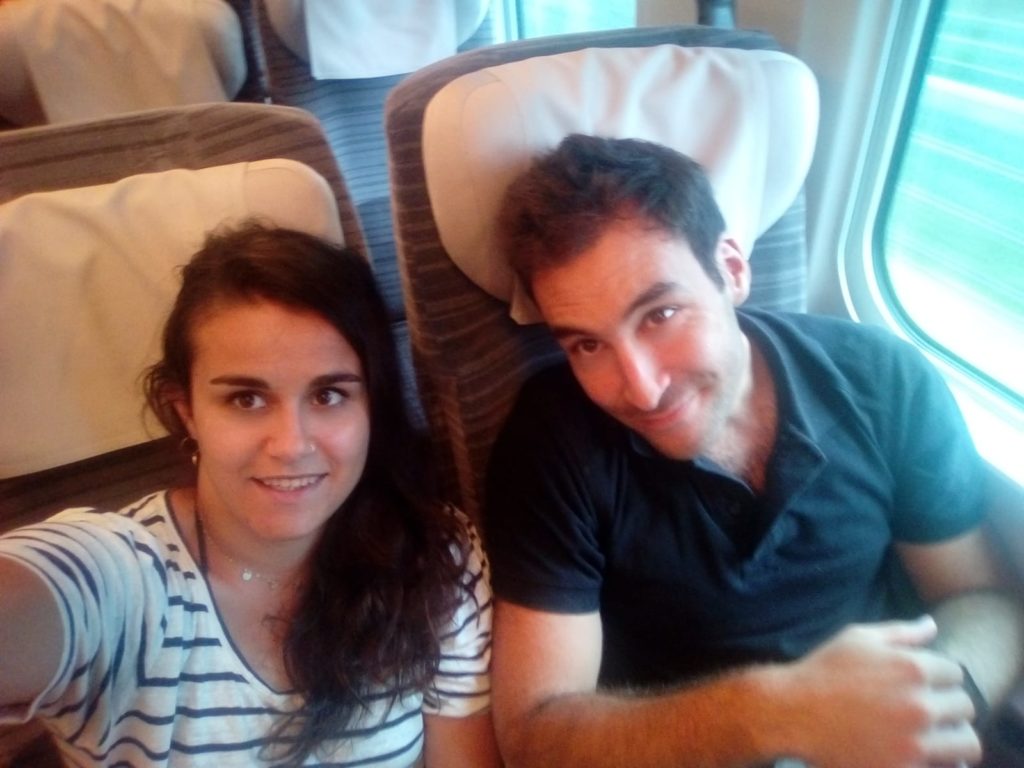 It's a special day on July 17th, since it's Emilie's birthday! Festive breakfast (with what we find because of course the bread here is not a dish that runs the streets) and in the evening, when finally we are in the city of Hakodate, on the island of Hokkaido, meal with pancakes, beers, and sake!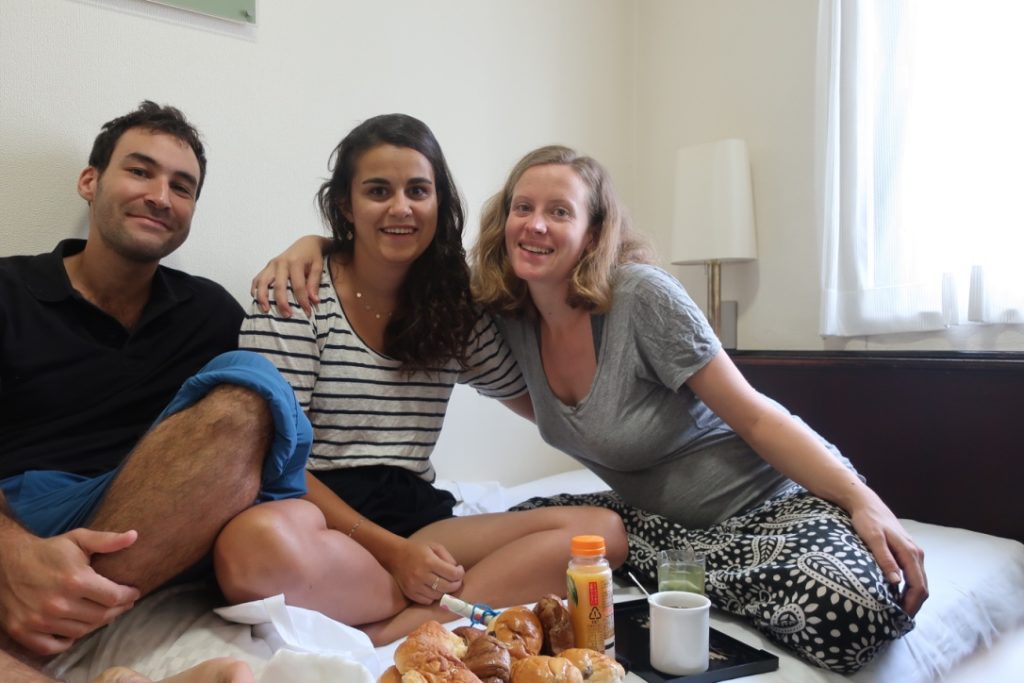 We visit the parks and lakes in the Hakodate region and are surprised not to be very out of place. The vegetation is denser and different from our forests in Europe, but the landscapes are finally quite similar with ours. We go to Onsen because the area is famous for its hot springs. It will take us about 15 minutes to successfully penetrate the hot water, which is around 43°C (no, ladies it is not dangerous for pregnant women, we had the idea to inform us before going). We are really in love with this concept of hot and common bath, in which we enter completely clean.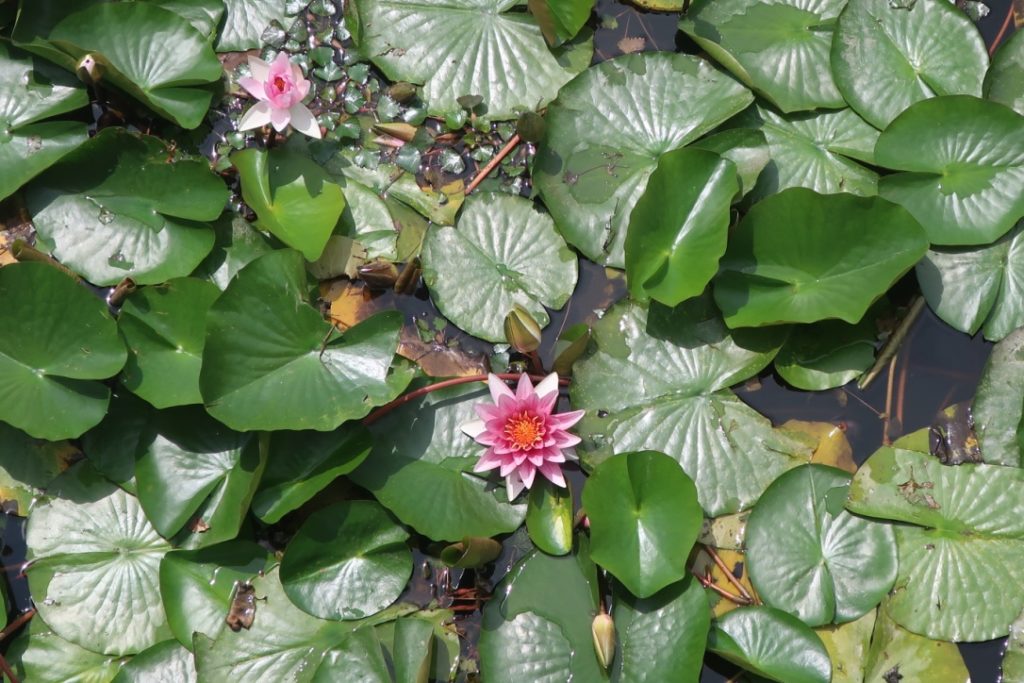 After three days in Hakodate, it's time to get back on our favorite trains and head south to Kanazawa, a small town on the shores of Japan's sea. We love this peaceful place, these old Japanese houses, this aesthetic so special, refined and so perfect that is found in the architecture, art, cuisine and even the way of dressing of the Japanese. We visit a beautiful park and a castle under a blazing sun.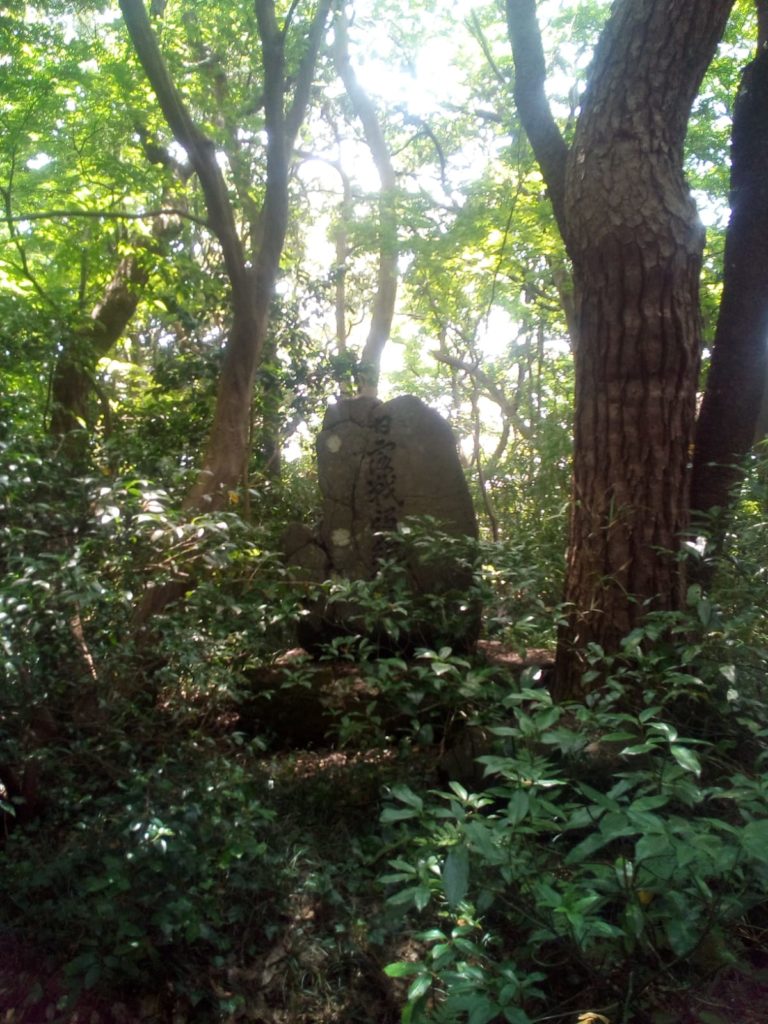 We will then discover the small town of Takayama, and especially meet with Sylvain, a friend of Mehdi with whom he played basketball younger. Sylvain lived two years in Japan and married a Japanese woman, so it is very interesting to be able to discuss with him about his vision of Japan, their habits and customs, and their history. He takes us to visit this pretty little picturesque town and invites us in the evening to the restaurant to taste the good traditional dishes of the region, including Hida beef, massed and fed with beer throughout his life, as famous as the Kobe beef.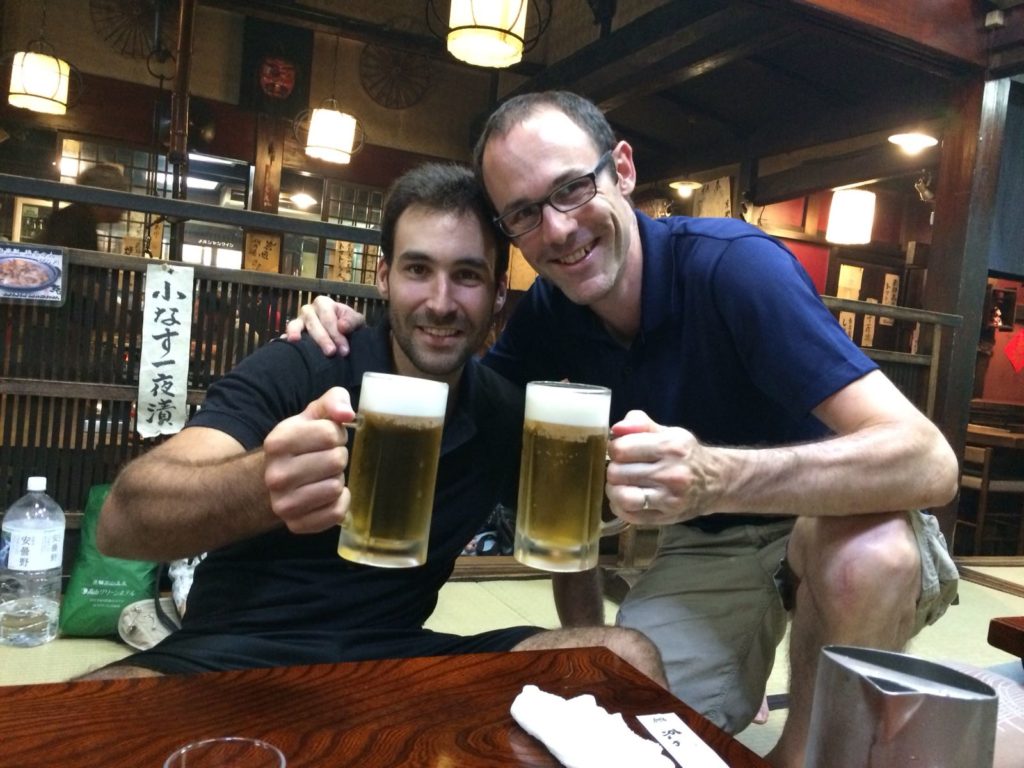 The last city we will discover is Kyoto, the city with 2000 temples. We go at night to visit the Fushimi Shrine, one of the emblems of the city. The atmosphere that emerges, the calm, the few tourists at this time enchant us and leave us dreamers. In Shintoism, there is an infinity of divinity. The sanctuary of Fushimi is dedicated to the goddess Inari, guardian of cereals and especially rice. We wander in the streets of the city and spend time in the Japanese crockery, to admire (and buy a little!) these cups and plates that are all more beautiful than the others.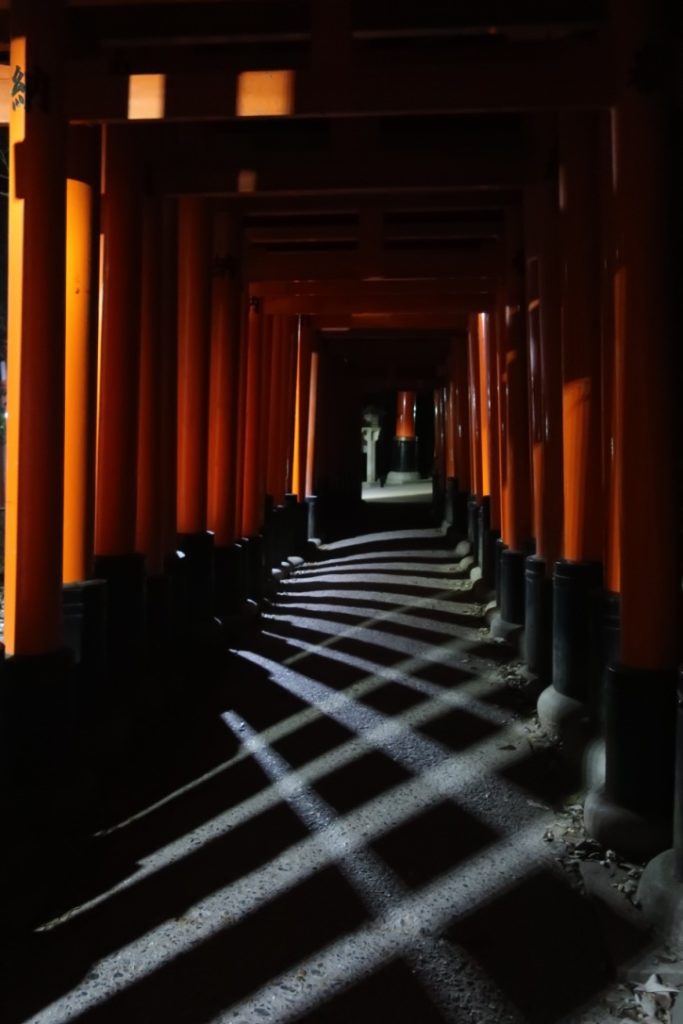 It is already time for Emilie to take her last Shinkansen to join Tokyo and return to Switzerland, and for us to spend a few days in Osaka, from where we will take off. We arrive in the neighborhood of our hotel and are surprised to discover a different reality than the one we have seen so far in Japan: a poor and miserable neighborhood. Homeless people sleep side by side on their cardboard, while in the shops we see people staggering, moving like sleepwalkers. The streets stink of urine and grime and the many pachinkos of the district dispense their noises and smells even with their closed doors. The population seems to have a lot of difficulty here and it leaves us pensive about the sustainability of the Japanese system, which nevertheless pushes its population to work tirelessly and to give the best of them all their life.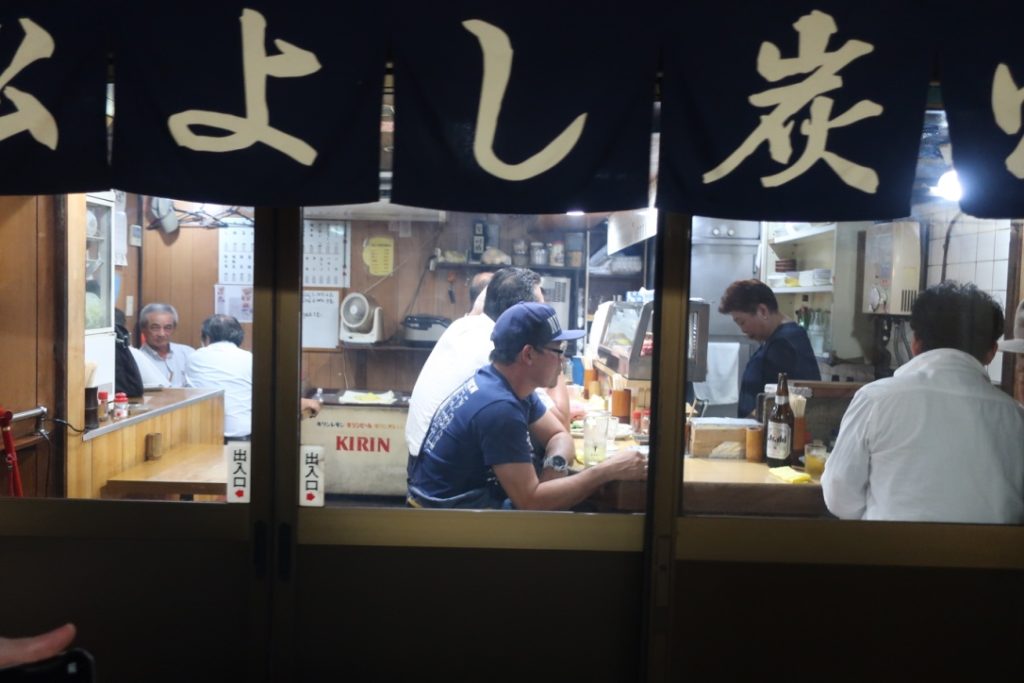 Then it's time to leave. We are both excited to return in our countries that are dear to us, after a year of traveling, and find the people we carry in our hearts … and at the same time we feel anxious to leave behind this way of life that we adopted and that suited us: the tavelling life. Our return is like a new adventure, and we wonder what it will bring us!
Surprises, questions… :
When we arrive at the lake towards Mount Fuji, we ask if we can go swimming. Everyone tells us no, but without being clear on why. "It's forbidden", "it's too deep", "it's dangerous". We do not insist but ask when we meet new people about swimming in Japan. Despite all the lakes and seas around them, the Japanese do not bathe much, and the connection they have with this element is rather tinged with fear, given all the typhoons and tsunamis they have known. It is therefore unusual to swim in a lake, and the beaches of the sea are open only a short time in the year, not being monitored the rest of the time.
Arriving in cities, we see a lot of signs banning cigarettes in the streets. We are happy because the streets are very clean, and we are never disturbed, on the platforms of the station or in public places a little dense, by cigarette smoke. But then we realize that paradoxically, most restaurants and bars allow smoking inside. So we can end up eating a good miso soup scented by the very good cigarette smell of the customer next chair. Until the end, we will not understand this logic.
Of course, Japan is an island and a lot of imported food is expensive. But when it comes to fruits, prices are exploding. So, in extreme cases, it is possible to buy a mango for 80 €! Apparently, it's a nice gift to make when you want to be forgiven about something …
We had not done it during the trip, and we waited until the last country to enter in a … McDonald! No excuses, no comments … we discover in the North, however, a local and Japanese version of McDo: Lucky Pierrot. We recommend!
The streets, even in the big cities, always seem calm to us. Of course we come from Southeast Asia where the horns and street noise are part of the reality of the day and the night, but we are still surprised how the crowded places, like subways, streets , remain silent. Often, it is the tourists who make the most noise in these places.
The rules of politeness are inviolable and it is interesting to observe the ways of greeting between the Japanese, depending on whether the other person is older or younger. We often feel that we do not react as the rule would like and that it is difficult for the Japanese to accept it.
We will soon make a video about Japan. Meanwhile, you can always have a look on our photos here!