This time we are traveling alone. It is in the middle of the afternoon on the 20th of August  2017 that we say goodbye to the people who came to join us during the first part of our trip. We pack the bicycles and cycle,  pedal stroke after pedal stroke against the wind.
On the horizon, the big city of the south, Marseille, welcomes us with its many ports and boats. While pedaling on the coast, I feel (Mehdi) an encounter with the sea and its sailboats.
"Marseille, city where it is good to live, city where it is good to sail. Marseille, city of scam and pollution, you stoled our ideal to drink a good coffee in your old port. (Too expensive and cheated by tourism development. "

Excerpt from Mehdi's diary
It is then that about fifty kilometers further, we meet the calanques and the famous Côte d'Azur. Transparent blue sea and rocks carrying roads from top to bottom. Indeed our calves had to adapt quickly to the multiple climbs that offered this splendid place. It is with a heavy August sun that we experience the heat, the suffer and the joy of the sea in an intense way. We continue on 227 km in 6 days to arrive in St-Tropez, where I look forward to see the famous gendarmerie of St-Tropez, which I know from the movies of my childhood. Unfortunately totally refurbished, its charm of yesteryear has flew away with the new brushstrokes. The house next door was able to cultivate a certain charm, so I decided to take a picture right there. This in tribute to the little boy that I was, who enjoyed watching a movie gendarmes "late" in the evening.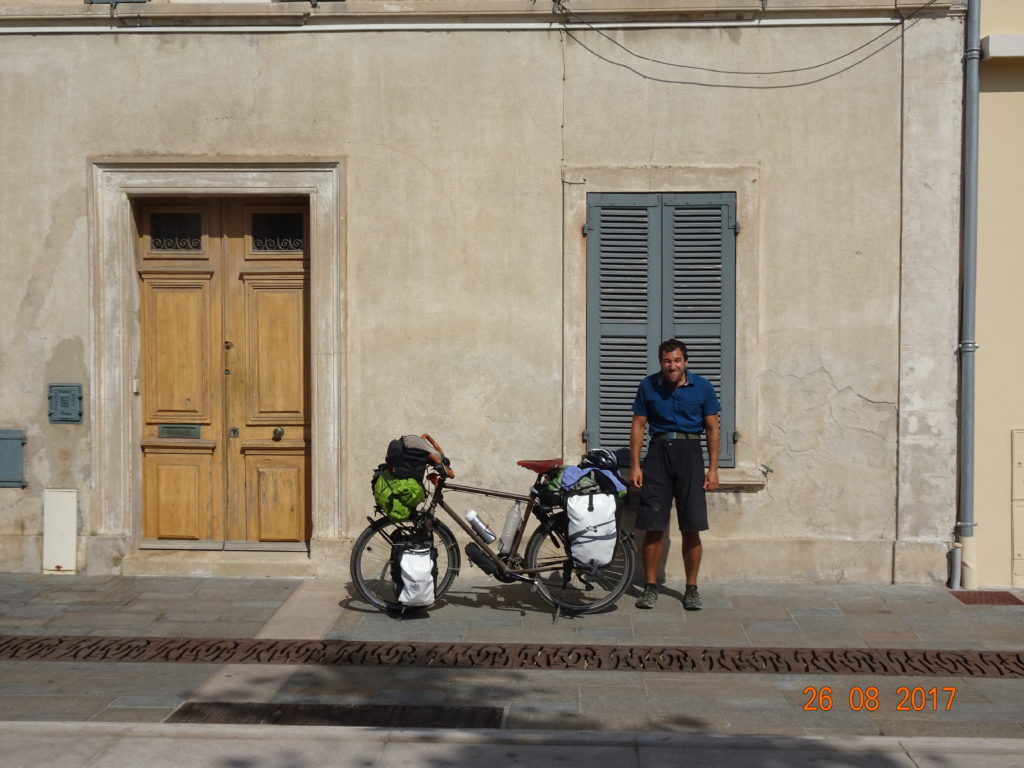 On the 26.08 we took the boat from St-Tropez to St-Raphael and from St-Raphael the train to Menton (France-Italy border). That night, we sleep in Italy on a kind of ridge called "Corce de la Mortolla". We do not close the eye of the night because in the evening, this place turns into a meeting place for homosexuals, full of men moving in the night around our tent … I spoke with them, apparently  homosexuality in Italy is badly seen so  there are unofficial places where they can meet. The next day we cycle 10 km and stay all day at the "spiagge" (beach) to recover.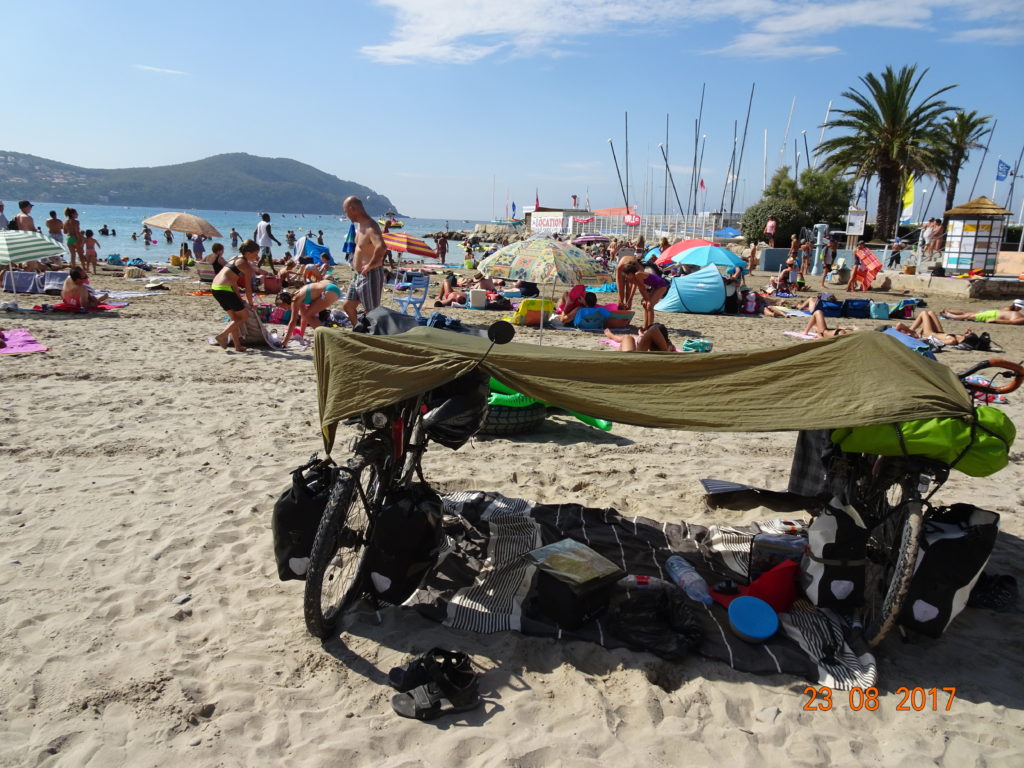 On the 29.08 we take a train again which will take us to Fivizzano. There we meet Lea who is traveling with her sister Julie-Anne in the area. We make beautiful encounters with people living in Italy and we warmly thank Murielle and her family for making us discover the best pizzas in the world and their home.
Then we meet our friend Luis who crossed several passes with his bike to meet us and pedal 3 days and nights with us , -)
Watch our video: https://youtu.be/AGNAGqNv8T8
From 31 to 5 September: Tuscany
Simply a privilege to pedal in a setting like this ….
We arrive September 5th in Tuscany at our friend Manu's place, who welcomes us in a big house lost on a hill where he spends his holidays with his friends from Zürich and elsewhere. We take this opportunity to rest, and update the logistics.